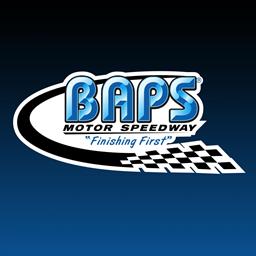 11/3/2022
BAPS Motor Speedway
---
Track Champions to Receive Guaranteed Starting Spots at Final Showdown
YORK HAVEN, Pa.: General Manager Kolten Gouse and his staff continue to add bonuses for the season-ending Final Showdown at BAPS Motor Speedway.
The 410 Sprint Car division will highlight the program with the Modifieds on November 12. And just like past season enders, champions in both divisions will be honored by being guaranteed starters in their respective main events.
"The decision to offer guaranteed spots in the A-Main for each division is our way of giving back to track champions," Gouse said. "It takes a lot of money and dedication to win a title, and this group has done both in beating stout fields.
"There is a good chance all of these drivers qualify for the feature, but racing is tough, and anything can happen. This gives them a bit of a safety net if needed."
Guaranteed starters on the 410 Sprint Car side are Freddie Rahmer (Lincoln Speedway), Logan Wagner (Port Royal Speedway), Blane Heimbach (Selinsgrove Speedway), and Danny Dietrich (Williams Grove Speedway). Gio Scelzi also earned a spot by winning the October 21 main event at BAPS Motor Speedway.
On the Modified side, it's a who's who of drivers in the region. Duane Howard (Big Diamond Speedway), Craig Von Dohren (Grandview Speedway), Ryan Godown (Bridgeport Motorsports Park), and Brandon Grosso (New Egypt Speedway) earned a spot.
The Sprint Car drivers will be vying for a $6,000 winner's share. As for the Modifieds, their event will pay $4,000 to the driver sitting in Victory Lane. It's also the last race of the Pennsylvania Tri-Track Series for Modifieds, which pays $3,000 to the winner.
Currently, Louden Reimert holds a slim 10-point lead over Craig Von Dohren. Brett Kressley is 14 points back, and Billy Pauch Jr. is fourth a mere 17 points behind. Timmy Buckwalter is fifth, but he is 54 points back.
There is also extra money on the line for 410 Sprints. The Final Showdown marks the last event on the SprintCarUnlimited.TV Pay-Per-View presented by Valley Supply schedule. Danny Dietrich leads Anthony Macri by 155 points. The winner of the series receives $3,000.
Grandstand gates open at 1 p.m. for the Final Showdown. Racing begins at 3 p.m. Adult ticket prices are $30, with seniors general admission listed at $25. Students (13-to-17) are $15, and children 12 and under are free. If you can't make it to the track, you can catch all of the action on www.sprintcarunlimited.tv.
---
Article Credit: BAPS Motor Speedway
Back to News