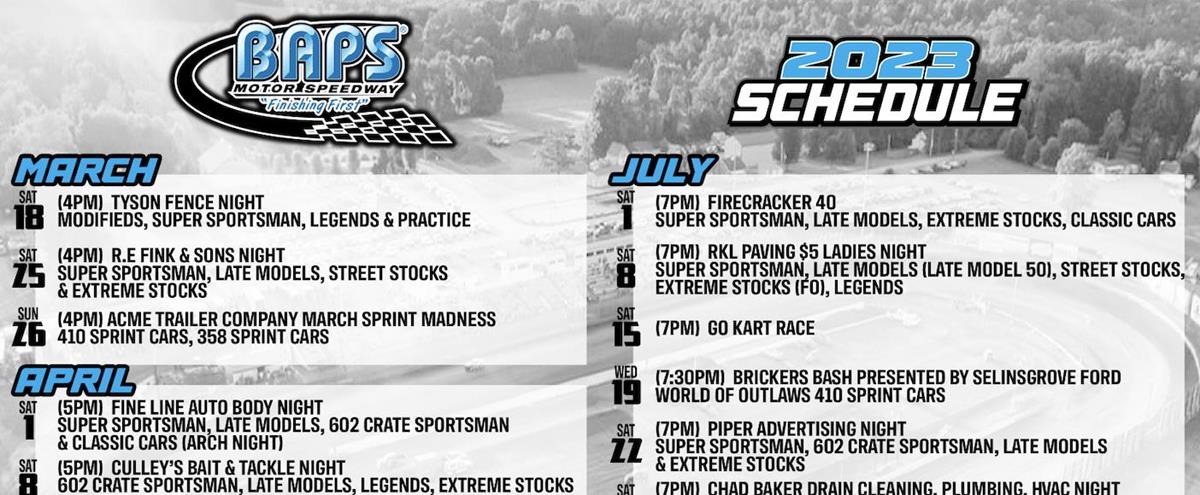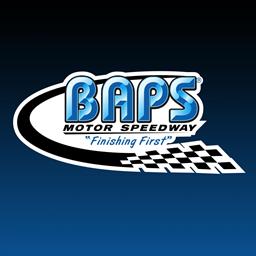 1/20/2023
BAPS Motor Speedway
---
BAPS Motor Speedway Releases 41 Event 2023 Schedule
YORK HAVEN, Pa.: Another racing season is weeks away, and BAPS Motor Speedway has come up with another robust and diversified schedule for fans.
No less than 12 different divisions will be scattered across a 41-race schedule. There will also be special events, such as Monster Truck Mania, Lantern Fest, National Night Out, and new for 2023, Bull Ride Mania, which makes BAPS Motor Speedway one of the few multi-entertainment venues in the region.
"We feel it's good to diversify and make BAPS Motor Speedway a full-service entertainment venue," General Manager Kolten Gouse said. "We want to bring more fans to motorsports and getting them through the gate with special events could lead to more fans returning for our racing events.
"I feel this is our best schedule in our seven-year history at the speedway. We have a lot of different divisions, higher-paying shows, and a good mix of racing and events for people of all ages."
Track owner Scott Gobrecht and Gouse announced the addition of a World of Outlaws date at the speedway. They also booked 10 more 410 Sprint Car events and a pair of appearances from the 358 Sprints in 2023. The 358s will hold their first central Pennsylvania event of the season at BAPS Motor Speedway on March 26 before headlining the Dirty Deeds Fab and Repair Dirty 30, which pays $3,000 to win, on May 27.
The Super Sportsman will still be the headline division at the speedway with Meyer's RV as the sponsor throughout the season. A total of 19 events will be on the schedule, including increased purse events such as the $2,569-to-win Larry Jackson Nationals presented by Jackson Lawncare and Piper Advertising (April 29), Dellinger's Auto Body Firecracker 40 paying $2,500 to win (July 1), and 49th annual Gary Wolford Sportsman 100 presented by Dry (Sept. 2), which pays $4,000 to the winner.
Creekside Auto Sales returns to BAPS Motor Speedway as the division sponsor for the Limited Late Models. The class will be attendance 15 times this season. Featured events include Twin 20s on April 29, the Smokey Frye Late Model 50 paying $2,500 to win on July 8. Rock-It-Pizza and ACME Companies will be a part of the Carl Billet Memorial August 19.
Extreme Stocks will also be a fixture on the schedule with Superior Homes returning for 14 dates. The biggie is the 20th annual Insinger Performance/Sunoco Nationals fueled by Miller's Racing Parts. The Street Stocks will also be on the card six times in 2023.
"We wanted to keep our core divisions intact," Gouse said. "The Super Sportsman, Late Models, Extreme Stocks, and Street Stocks have been a staple at the speedway since we took over before the 2016 season.
"We wanted to make sure these four divisions were a big part of the schedule. They bring a core group of fans to the speedway, and we wanted to make sure they continued to have a home at BAPS."
Modifieds have also gained a foothold at the speedway, and Gouse and Co. wanted to expand on that a bit in 2023. The 358 Modifieds are featured in the season opener on March 18 and will team up with the 410 Sprints on April 30, August 27, and in the Final Showdown on November 11.
The 602 Sportsman Modifieds will be in attendance 11 times, three more than a year ago. The most notable is the 20th annual Insinger Performance/Sunoco Nationals fueled by Miller's Racing Parts, which features a 50-Lap event paying $2,000.
A BAPS Motor Speedway schedule wouldn't be complete without appearances by the Gene Latta Ford Central PA Legends presented by Baker Door Company. There will be 10 events held this season.
The Classic Cars will also be on the card seven times this season, with the Scramble Cars making six stops. Scramble Cars will participate in the Drydene Oil Gobbler Bash on November 18 and feature a pumpkin smash demo, figure 8 racing, ladies powder puff, and team-car soccer.
Two AMA District 6 events will be held this season. The Vintage Nationals take place on May 6, with the Halloween Bash highlighting October 28. The PA Maxxis Series (July 15) and Kart Klassic (October 7) will also be at the speedway.
There will be three Ladies Nights this season. On April 22, July 8, and September 16, ladies will be able to purchase a general admission ticket for just $5.
Special non-racing events have become popular at the speedway. New for 2023, Shetron Auction & Equipment presents Bull Ride Mania. The event takes place on May 13 and features bull riding, barrel racing, breakaway roping, and stick horse racing.
Monster Truck Mania will be back Father's Day weekend on June 16-17. The event, which is presented by Levan Machine & Truck Equipment, will have a pre-show pit party and monster truck rides for fans.
Lantern Fest came to the speedway a year ago and was a big hit. So much so, the management team has brought it back September 9. Tickets for the event can be purchased at www.thelightsfest.com.
Full Schedule: https://www.bapsmotorspeedway.com/schedules/
---
Article Credit: BAPS Motor Speedway
Back to News