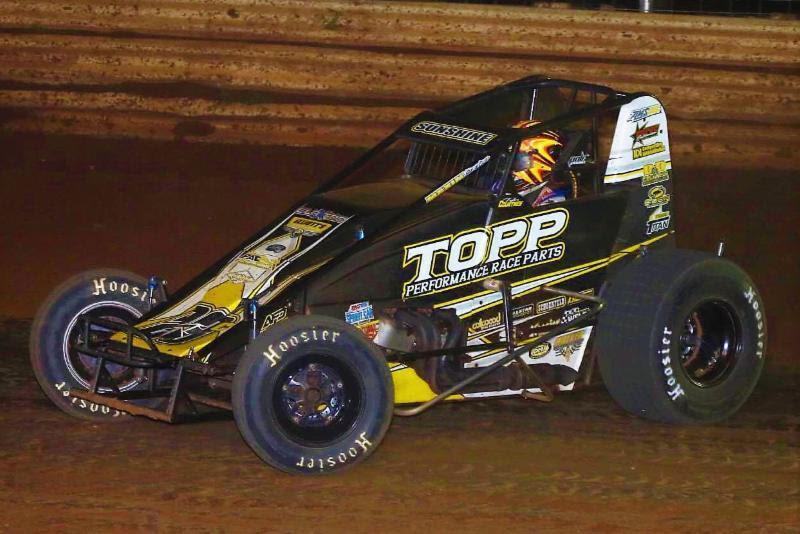 ---
COURTNEY CAPS EASTERN STORM WITH SUSKY SUCCESS; WINDOM WRAPS UP TITLE
.A perfect driving performance from start-to-finish in dirt track racing is a nearly impossible task to achieve. There are so many variables at play - some that are controllable and some that are not.
Tyler Courtney appeared to have seen Sunday night's USAC Eastern Storm presented by DMI finale drift away on multiple occasions. But, when it came to crunch time, the 23-year-old from Indianapolis, Indiana was about as picture-perfect as you could imagine.
Courtney utilized a turn one slide job on Thomas Meseraull with just two laps remaining, which proved to be the winning moment on the way to claiming his third career USAC AMSOIL National Sprint Car feature victory and his second of the 2017 season.
Meanwhile, Chris Windom's ninth-place run was devoid of much in the way of style points, but it was just enough to eke out his first Eastern Storm title by four points over Kevin Thomas, Jr.
"It's pretty special," Windom exclaimed. "I ran second behind Bryan (Clauson) last year and ran second to Levi Jones in this deal too. There's been way too many seconds and I was ready to get the first one out of the way. This one is pretty high up on the list. We've won Indiana Sprint Week and now Eastern Storm. That's very special to me, but it's not just me, it's for the team. They've worked their butts off in the hotel parking lot all week. It's been a grueling week out here in the heat. If it wasn't for them, I wouldn't be here."
Windom entered the feature with a 16-point lead in the standings and would roll off sixth on the grid after earlier recording the ProSource Fast Qualifying time.
Chad Boespflug grabbed the lead at the start, sliding to the top and the lead on the initial corner from his pole starting position ahead of Courtney. On the fourth lap, Courtney slid Boespflug for first exiting the fourth corner before surging ahead to the lead at the line.
Trevor Kobylarz nosed into the turn four outer guardrail on lap 11, setting up a restart that Meseraull used to his advantage.
"I thought on this start, just throw a slider on him," Meseraull recalls. "There's nothing to lose but a spot or two. I hit the curb off two just right. Next thing you know, man, he's not there, he's not there, he's not there. I just started driving it harder and harder and harder. The next thing you know, the track started building a curb. You don't want to be out front in case you're gone and make a mistake and turn it over because when the curb is a foot tall, you can turn it over."
One lap later, Justin Grant slid Courtney for second entering turn three. Courtney decided to stop fooling around, settled down and ripped second back away from Grant entering turn one.
"Once Meseraull got by and Justin tried to pass me, I knew I had to get going," Courtney said. "I had to stop messing around and making mistakes. I had to get back by Justin and figure out what I wanted to do with my racecar. It's a lot easier chasing the rabbit than it is being the rabbit, at least in my shoes."
Meanwhile, Windom's chase for the Eastern Storm title was in peril after dropping from sixth to tenth after tangling with Boespflug, thus providing him with minimal wiggle room down the stretch to earn enough points to claim the title.
In the final laps, though, Courtney turned it up a notch in his pursuit of Meseraull, which almost bit him.
"I got up over the cushion and got way sideways off turn four and kept it going," Courtney details. "I thought I was going to have to settle for second there at that point. But I hit the top and kept digging my way back to Thomas. I think it's almost a blessing in disguise that I got to chase Thomas and see what he was doing and if he was getting tight. I'm not really known for running the cushion like that, though. It got real big there on the exit of two and four."
With five to go, Courtney was revitalized, banging off the cush and selling t-shirts, chopping into Meseraull's lead as the frontrunners encountered lapped traffic. Meseraull split between the two cars of Kyle Moody and Matt Westfall, which, at first, appeared to be a decisive move that put this one on ice. However, Courtney refused to settle, sprinting past Moody on the back straightaway and throwing it deep into turn three on the bottom to dispose of Westfall and tuck right in behind Meseraull with two to go.
"I didn't know how many laps were left, but I knew it was getting down to the wire," Courtney remembers. "Getting by Westfall was one of the biggest moves of the race. That's what got me to Thomas's bumper. I stopped making the mistakes I was at the beginning of the race and I reeled him in. Thomas was kind of hesitant around the lapped cars and I capitalized on that."
Courtney was hauling and lined up his bid for the lead on Meseraull heading into turn one on the 29th lap where he dove to the bottom and connected on his slider to take over the position with just a lap-and-a-half to go.
On the 30th and final circuit, Courtney took care of the lapped car of Alex Bright, banging the turn two cushion, to create an ample amount of separation between he and Meseraull en route to his fourth USAC National victory (2 sprint & 2 midget) in the past 17 days over Meseraull, Grant, Brady Bacon and Thomas.
Courtney became the latest in a line of new Eastern Storm winners this past week that marked the first time there have been five different winners in five Eastern Storm races.
"This is the right time of year to get your momentum going," Courtney believes. "It's a big points part of the season for our championship hopes. To have two good weeks like this is huge. Hopefully we can keep this success rolling throughout the rest of the summer."
San Jose, California's Thomas Meseraull led 17 of the 30 laps and came within two laps of becoming the only repeat winner of this year's Eastern Storm in his Heffner Racing Enterprises/Lelands.com - Fatheadz Eyewear/Maxim/Rider.
"When we got to Westfall, he was running the top and I had to do something," Meseraull said. "Tyler was able to reel me back in and get by me and, once he got by me, I didn't have anything for him. We picked up a shake in the middle, I banged the curb real hard and the car started shaking really bad. I couldn't find any dirt or anything, don't know what it was. It kind of got me a little bit leery. I'm rolling and I'm like, 'last night of the deal, run this thing until you turn it over.' Fortunately, we didn't do that, but that's the kind of attitude you got to have when it's such a tall cushion."
Meseraull put his week into perspective following a fourth-place finish and a win at Lincoln in this year's Eastern Storm with a new combination.
"You got Windom who's been driving for Baldwin for 50 shows. Tyler Courtney's been in his car for two seasons. Justin Grant's been in that car for a year. And here I come after running wing cars all year and show up in a car that's brand new with a team that's never ran without a wing. And we were competitive. We want to race. We're top-four in the Eastern Storm points, but I'm most proud of my qualifying. I qualified in the top-five every night. I didn't get a quick time, but I was there. That's what you have to do in this series. You have to be a good qualifier."
Contingency award winners Sunday night at Susquehanna Speedway include Chris Windom (ProSource Fast Qualifier), Trevor Kobylarz (Simpson Race Products 1st Heat Winner), Brady Bacon (Competition Suspension, Inc. 2nd Heat Winner), Chad Boespflug (Chalk Stix 3rd Heat Winner), Gary Rooke (Indy Race Parts Semi Winner), Dave Darland (Wilwood Brakes 13th Place Finisher) & Kyle Moody (KSE Racing Products Hard Charger).
Back to News