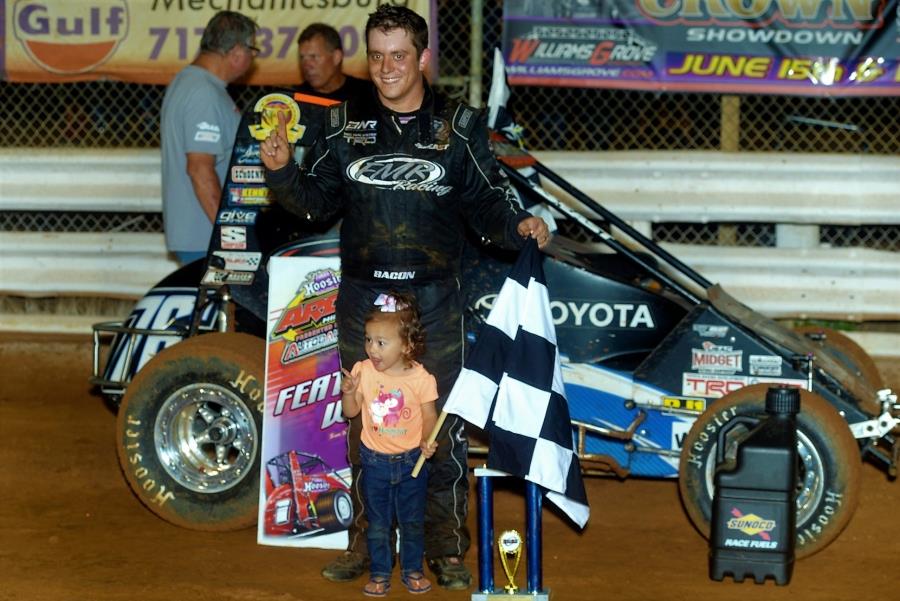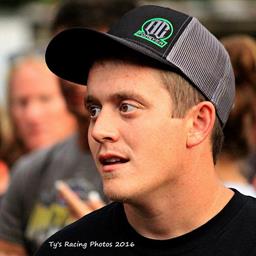 ---
Brady Bacon – First Win at Williams Grove!
Brady Bacon – First Win at Williams Grove!
(Bill W) June 21, 2017 – Many drivers dream of a first win at the historic Williams Grove Speedway, but never get it. Brady Bacon and the Frank Manafort Racing #76M midget team were able to accomplish just that last Friday night. A busy six days and eight feature events in Pennsylvania last week during USAC's "Eastern Storm" also saw a win at Grandview Speedway near Bechtelsville in the Dooling/Hayward #63 sprint car. The Broken Arrow, Oklahoma driver registered seven top fives in the eight events contested. Tonight, he'll be in the Bacon/Marshall Motorsports #99 with the All Stars Ohio Speedweek make-up stop at Waynesfield Raceway Park. After running at the Terre Haute Action Track with USAC Friday, he'll return to Atomic Speedway near Chillicothe for the Ohio Speedweek finale.
Things began a week ago Tuesday at Grandview with the USAC sprint cars. "We were able to time in second quick, but we missed the transfer in our heat," says Brady. "It was pretty narrow, and quick time missed it too, so we had to start the feature eighth after going through the B. We picked our way through there. We started working the bottom, and got to second. We passed for the lead on the bottom. CJ (Leary) ran me back down, and I started running the top in one and two and the bottom of three and four. I hit an infield tire, and he got back around me. We were able to get back around him in lapped traffic. The car was really maneuverable and it was good to get the week started with a win."
The series continued its run Wednesday at Lincoln Speedway near Abbottstown. "We didn't get qualified well (16th), and that set us back," says Brady. "We got things sorted out, though. It was hard to pass in the feature. There was a time in the race when the top came in, and a handful of guys were able to pass up top. We all got in line up there and it was what it was. We ended up 14th."
Thursday meant double-duty for Brady in both the sprint car and the midget at Williams Grove Speedway near Mechanicsburg. In the sprint car, he timed in second quick and started sixth in his heat. "We were really good on the bottom in the heat," he says. "I think it's hard for some to realize how much you have to slow down to run the bottom there. I remember the first time I was there in a winged sprint car, I almost ran over the guy in front of me. He was going for the bottom. I thought I was too, but I found out I wasn't! We were able to win the heat there Thursday. I thought the groove would be on the top in the feature. We got shuffled around on the start. By the time we got where we needed to be on the bottom, we picked our way forward. I had a tough time getting by Justin Grant. I felt if we got by him, we could have reeled in the other cars. As it was, we settled for fifth."
The midgets were sanctioned by ARDC and they had a different system than Brady is used to. "We had a little confusion with the draw," he says. "I drew for the sprint car, and got my transponder for the midget. They drew after the driver's meeting, and we missed it. So we had to start at the tail of the heat, and they didn't give us passing points. We were able to get up to second in the heat though, and we started sixth in the feature. It was kind of hard to pass. We had a really fast car, but things got narrow in the corners when everyone was running the bottom. We were working and working and we finally passed for second on the last lap. It was a good finish for us. That was the car we had issues with at Kokomo, so it felt good to get those ironed out."
Brady was in Paul Martens #48 Silver Crown car Friday at Williams Grove for their 100-lap main event. "We had some brake issues on the Champ car," he says. "We had it partially solved by the feature. That put us in a bind for qualifying and we ended up 11th quick. We had a good car for the feature though. We passed some cars early. We just didn't have quite enough gear at the end of the race when the track slowed down. We couldn't quite pull off the corner where it was still pretty heavy. We ended up almost running out of fuel. We burned up about twelve more gallons than we did last year at the same race. We were there with the lead pack at the end, and finished fifth, and that felt good."
The second win of the week came that night in the ARDC midgets. "We really had a good night in the midget," says Brady. "We were able to win the heat from third, and then started second in the feature. We were able to lead every lap, and they say we won by quite a bit. We had the fastest lap of the race by three or four-tenths, and we were consistent. That was also a car we hadn't run this year. It was good to get it shaken down. Hopefully, we can get some USAC wins when the schedule picks up again. It was pretty awesome to get our first win at Williams Grove, no matter what we were racing."
Saturday night, the USAC National sprint cars were back in action at Port Royal Speedway. "For some reason, qualifying and I don't get along there," says Brady. "We started the feature tenth, and had a really good car. We were able to get to third. We seemed to be able to maneuver better than anyone else, but I may have used my stuff out a little bit to get to that point. On one of the later restarts, our tire didn't really take off, and we had to settle for third."
The "Eastern Storm" tour concluded at Susquehanna Speedway near Newberrytown. Brady timed in eighth quick. "We had a later draw for qualifying there, and it got really slick, really fast," he says. "We started eighth in the feature, and worked our way to fourth pretty quickly. It got single-file around the cushion at that point, and we just had to get in line a little bit. We were a little tight running up there and we ended up fourth. We're getting better every race in this car and we're looking forward to Terre Haute."
Follow Brady on his Website, Twitter and Facebook!
Follow Brady at his website located at www.BradyBaconRacing.com! Also keep up with him on Facebook and Twitter (which also can be accessed at the website) at the following links…
Twitter Link – http://twitter.com/BradyBacon
Facebook Link - www.facebook.com/pages/Brady-Bacon-Racing/278125555137
Partner of the Week – Tel-Star Technologies
Native American Owned and Operated, TST has been established since 2000. We have assembled an industry leading team of professional engineers, project managers, programmers, technicians, and back office staff. Our mission is to provide the highest level of technology while ensuring simplicity, reliability, and aesthetics
Our TEAM of trained professionals can support any project from start to finish. We have over 25 years of experience providing Turn-Key Solutions for both Commercial and Residential Projects
• Design & Engineering
• Project Documentation
• Project Management
• Professional Installation
• Maintenance & Service
Visit us online at www.Tel-StarTech.com!
Associate Marketing Partner of the Week – Proglide Coatings
When it comes to metal to metal contact and reducing friction, Proglide Coatings has a solution. Not only can we maximize the potential out of every part we coat, we can drastically increase the life of the part. By reducing friction, heat is also reduced. When heat is reduced, distortion and molecular changes in the part itself slows dramatically, naturally prolonging the life of the part. With that said, viscosity of lubricants can be decreased resulting in more free movement and less drag. As heat is reduced, the potential for the breakdown of oil is reduced. This lets your oil and lubricants perform the job that they were designed to do. Proglide also has characteristics that aid in the process of retaining oil at metal to metal contact points through a property called adhesion. Proglide holds oil to the part ensuring proper lubrication. In tight tolerance applications Proglide can fill the void of lack of lubrication where failure often occurs. Our coating adds no measurable tolerance to the part once coated therefor allowing us to coat even the tightest parts like pistons, rings, main bearings, rod bearing, cams, cranks, drive systems, etc. Maximize your parts and protect your investments with Proglide Metal Coating Technologies. Once you do you'll never feel the same about friction again. Visit Proglide Coatings online at www.ProglideCoatings.com!
Bacon/Marshall Motorsports would like to thank the following sponsors for all their help: Priority Aviation, Fatheadz Eyewear, Triple X Race Co., Tel-Star Technologies, KTA Kiser's Truck and Auto (formerly Sham's Garage), Heath Clips Lawn Care, Factory Kahne, FK Indy, Lightning Wings, CP Carrillo, FK Rod Ends, Valvoline, Keizer Wheels, Smiley's Racing Products, Sweet Mfg., Butlerbuilt Seats, Brown and Miller Racing Solutions, Proglide Coatings, Diversified Machine Inc., Wilwood, Allstar Performance, Simpson, Octane Ink, PAC Springs, Schroeder, Schroth Racing, Smith Titanium, King Racing Products and Schoenfeld Headers.
Dooling/Hayward Racing would like to thank the following sponsors for all their help: Dooling Machine, B&H Contractors, Diversified Machine, Inc., Stanton Engines, Spike Chassis, Sander, Sweet Mfg., FK Indy, Brown & Miller Racing Solutions, Simpson, Butlerbuilt, Schroeder, Schoenfeld and Schroth Racing.
Photo: Brady in Victory Lane at Williams Grove (John DaDalt/USAC Photo)
Bill W Media
Monroe, IA USA
Twitter: @BillWMedia
e-mail: sprntcar@hotmail.com
website: www.OpenWheel101.com
Back to News