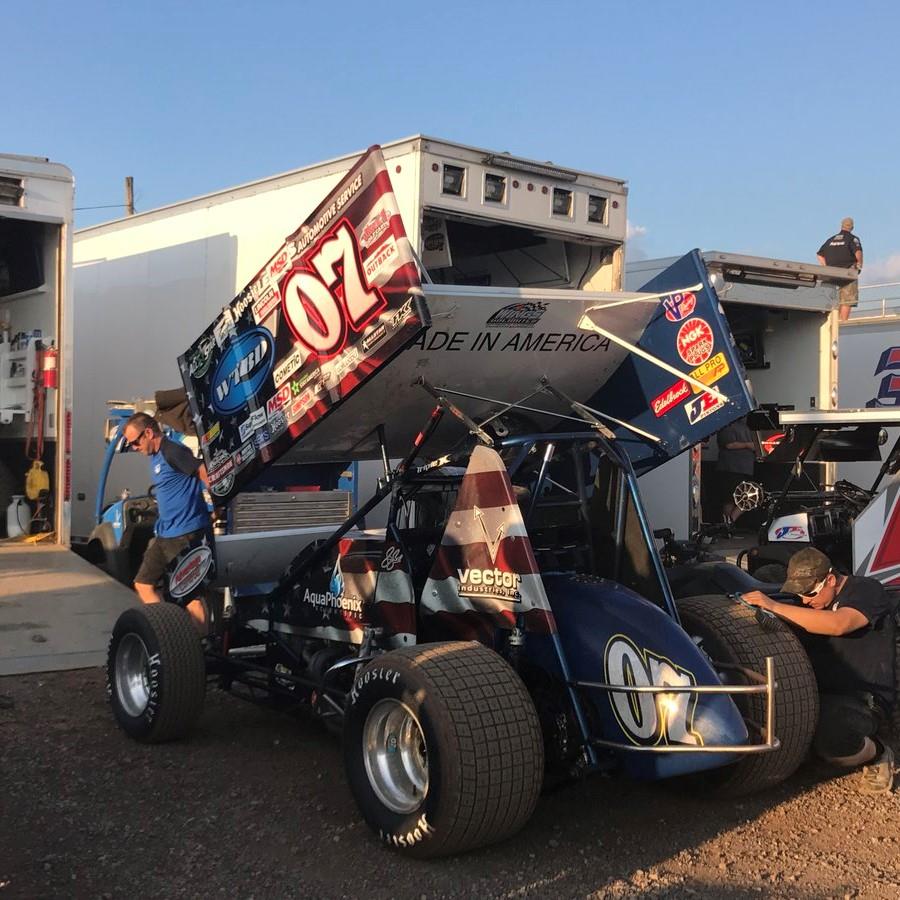 8/22/2017
Inside Line Promotions
---
Swindell Charges to Podium Finish at Williams Grove With All Stars
(Photo by Jeremy Elliott)
Inside Line Promotions – NEWBERRYTOWN, Pa. (Aug. 22, 2017) – Sammy Swindell scored his seventh podium finish with his third different team this season during a busy weekend in Central Pennsylvania.
Swindell drove for Coldren Motorsports in four races beginning on Thursday at Grandview Speedway in Bechtelsville with the Arctic Cat All Star Circuit of Champions.
"It started off pretty good," he said. "We ran the fastest lap in practice and then we qualified third. That was all really good and gave us a good starting spot in our heat to make it into one of the dashes."
Swindell won a heat race before he finished second in the dash, which started him on the inside of the second row for the A Main.
"The track was a lot different than it'd been when I was there in the past," he said. "I didn't think it was going to get as slick as it did. We didn't tighten the car up and do some things we probably needed to do. I think we might have had a top five. Someone slid me and didn't have me cleared so I lost a few spots. You get slowed down and the whole pack catches up on you. It was one of those things that snowballed. The next corner someone slid me and before I knew it we had lost a lot of positions."
Swindell, who spent the first half of the race battling for a podium position, also fought a sealed over tire in the closing stages as he held on for an 11th-place result.
His best finish of the weekend came the following night as Williams Grove Speedway in Mechanicsburg hosted an All Star event. Swindell timed in fourth quickest in his group before he won a heat race to again earn a spot in the dash. He then placed third in the dash to start the main event on the outside of the third row.
"We were a little off on the gear for the pace of the race," he said. "As the track got slicker it started coming our way. We got up to second. (Danny) Dietrich could take off and pull some gap on the restarts. After about the third lap we'd start reeling him in. It just didn't work into our favor the way the race went to get the win, but it's tough to come into something with different people where everything operates a little different. The cars are different than what I've driven and the motors were a little different than I'm used to. It was good to put the pieces in play and be that close right out of the box."
Swindell ended with a runner-up result.
Unfortunately, the team battled tough luck during the second half of the weekend. After electing to head to Port Royal Speedway in Port Royal on Saturday, a rain storm made the track tough to pass on and Swindell pulled a high pill to start near the back of a heat race. He advanced from seventh to fifth place, which started him 14th in the A Main.
Swindell spent the first half of the main event competing just outside the top 10 before he elected to pull into the pits early in an effort not to risk damaging the race car. He was credited with a 16th-place finish.
The weekend concluded on Sunday at Susquehanna Speedway, where Swindell was caught off guard with how the track changed when he went out to qualify. He timed in sixth quickest in his group to start the heat race sixth. Swindell picked up a couple of positions before his right rear tire began to go flat and he faded to a sixth-place result.
That relegated Swindell to the B Main, which he won to lock into the 21st starting position in the All Stars main event.
"There wasn't a lot of passing," he said. "We lost a few spots at the start when everyone got bunched up. I started passing a few cars. Late in the race the leader came through there and I could run by him pretty close, but I didn't want to mess up the race for the leaders so I tried to stay out of the way. It was one of those nights where a couple things went the wrong way early and it was tough to rebound."
Swindell ended with a 20th-place finish.
He will drive for A.G. Rains this Thursday at Riverside International Speedway in West Memphis, Ark., with the Lucas Oil ASCS National Tour.
QUICK RESULTS –
Aug. 17 – Grandview Speedway in Bechtelsville, Pa. – Qualifying: 3; Heat race: 1 (2); Dash: 2 (2); Feature: 11 (3).
Aug. 18 – Williams Grove Speedway in Mechanicsburg, Pa. – Qualifying: 4; Heat race: 1 (1); Dash: 3 (3); Feature: 2 (6).
Aug. 19 – Port Royal Speedway in Port Royal, Pa. – Heat race: 5 (7); Feature: 16 (14).
Aug. 20 – Susquehanna Speedway in Newberrytown, Pa. – Qualifying: 6; Heat race: 6 (6); B Main: 1 (1); Feature: 20 (21).
SEASON STATS –
30 races, 2 wins, 9 top fives, 16 top 10s, 18 top 15s, 22 top 20s
UP NEXT –
Thursday at Riverside International Speedway in West Memphis, Ark., with the Lucas Oil ASCS National Tour
MEDIA LINKS –
Website: http://www.SammySwindell1.com
Twitter: https://twitter.com/1sam91
SPONSOR SPOTLIGHT – High Performance Lubricants
High Performance Lubricants chooses the best base oils combined with the highest quality additives. The end result is a significant improvement in oil life and wear reductions compared to others. For more information, visit http://www.HPLubricants.com.
"I've run some of the High Performance Lubricants products and the product we put in the rear end and the steering made it run cooler," Swindell said. "We did a bunch of oil analysis before and after and found some great things using High Performance Lubricants."
Swindell would also like to thank John Christner Trucking, Rossie Feed & Grain, Acme Graphix & Design, Brown & Miller Racing Solutions, Simpson Race Products, CP Pistons, FK Rod Ends, Sweet Manufacturing, Schoenfeld Headers, MyRacePass and Inside Line Promotions for their continued support.
INSIDE LINE PROMOTIONS –
Inside Line Promotions specializes in affordable public relations and media management for motor sports drivers, teams, sponsors, tracks, series, events, organizations and manufacturers. ILP Founder Shawn Miller leverages professional journalism with new media technologies and social networking to improve your exposure and the return on investment for your sponsors.
To meet the media relations needs of your program by joining Team ILP, contact Shawn at 541-510-3663 or Shawn@InsideLinePromotions.com. For more information on Inside Line Promotions, visit http://www.InsideLinePromotions.com.
---
Article Credit: Inside Line Promotions
Submitted By: Shawn Miller
Back to News