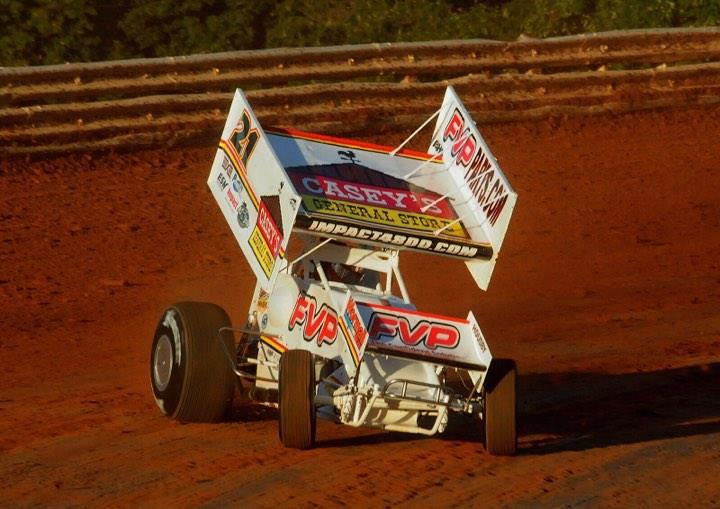 ---
Brian Brown – Still Quick in PA!
Brian Brown and the Casey's General Stores/FVP #21 team continued their PA tour last weekend with a trio of shows. On Thursday, Brian was leading when he suffered a flat tire in his first trip to Susquehanna Speedway near Newberrytown. Friday, he posted his best finish ever at Williams Grove Speedway near Mechanicsburg when he checkered fourth. In Saturday's Kasey Kahne Dirt Classic at Lincoln Speedway near Abbottstown, he would finish twelfth. This weekend, the three-day Williams Grove National Open will occupy the schedule for the Grain Valley, Missouri driver.
You're still going strong in PA.
It has been tremendous. We've been racing well, but I can't say enough about the fan support here. They are coming out to the races, thanking us for coming…they're just great. And it's great to be out here with our engine builder, Charlie Garrett.
You made your first ever trip to Susquehanna on Thursday.
We just didn't unload very well. Sometimes when I'm involved with the setups, I can give bad input. I was wrong on that one. We made the changes we needed to for qualifying to lay down quick time. That was awesome. Seeing these tracks for the first time can be tough. We've had some success the last two or three weeks adapting to them even if we're not great hot-lapping.
That meant you started fourth in the heat.
It was important to stay in position in the heat and we did that (finishing fourth). In the Dash, we started sixth, and my goal was to pick up a couple of spots. We were able to get up to second and put ourselves on the front row. It changed our mindset in that we thought we could win the feature.
You were definitely set up to win your third in a row.
Chad, Michael and Dad did a phenomenal job. We took off in the feature. I knew (Brian) Montieth was going to be tough, and Danny Dietrich had won some there in the past. We were able to get out there in the lead and I felt as good as I had all night. On lap seven or lap eight, I could feel something wasn't right. The car was getting tighter and tighter and finally on lap 11, the right rear blew. It was definitely disappointing, because we definitely wanted those three wins in a row. I was able to watch the rest of the race and Danny was good at the end. I feel without the tire, if we didn't win, we definitely would have contended for a podium finish.
Friday brought Williams Grove, a track you've had some laps on.
We didn't qualify as well as we'd hoped (seventh quick). I think we have our finger on that. I've never felt as good as I did in the heat race Friday. I felt we were good enough to contend. We went from third to second, and we were all over TJ (Stutts) for the win.
You started on the pole of the Dash.
The place gets so wide. There are four or five different options for the entry to the corner. You can hit the cushion, float the center or hit the bottom. It's a lot to take in at 140 miles per hour. I felt like I was caught searching around in the Dash. Greg (Hodnett) got by us and we finished second.
How did you feel heading into the feature?
Pushing off, we felt we made the changes we needed to make us better. We ended up going just a little too far and we were a bit tight. We couldn't rotate the corner like we needed to. We rode in third behind Lance (Dewease) and Greg. I didn't feel like we were out of it. We were right there with them, but as traffic came into play, I got tighter and that put us out of contention. Lucas (Wolfe) was able to get by us and we ended up fourth. We were beat by some of PA's top drivers and we had some good notes. Wherever we ran, it was good for this upcoming weekend. We got some good notes and we feel like we can contend going in.
The biggest paying race of the weekend was Saturday's Dirt Classic at Lincoln.
Out of all the tracks, if I looked at my calendar…Lincoln would be the one that I would circle to say I would probably struggle the worst. If you stuck it in the Midwest, it wouldn't be my style of track. With it being in Pennsylvania where those guys have tons of laps, it makes it worse.
Despite that, you came out and were timing in the top ten right away.
I felt good to be honest. We were right there on track hot-lapping, and then when we went to qualify, we were close. It was cool to win a heat there. We got by Jimmy Siegel and went on to win that. We felt good at that point. It helped our confidence.
Track conditions changed a lot during the feature.
We were a little tighter in the second heat than we wanted to be. We made a change for the feature, and the track slicked off. We just went too far and we were too free in the A main. We were running eighth and I felt we were good enough to run sixth or so. They had a restart and I missed the bottom and got passed by a couple guys. On the next restart, I tried to slide TJ and I got over the cushion. We lost more spots there and ended up twelfth. I feel if I did my job on the restarts, we could have finished sixth to eighth. If that's the worst finish we have in the PA month of money, we'll be fine. It's been great so far!
Back to News