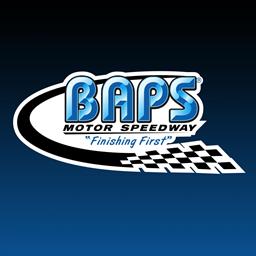 5/20/2023
BAPS Motor Speedway
---
Scott Dellinger Claims Rain Delayed Super Sportsman Win at BAPS
YORK HAVEN, Pa.: Scott Dellinger is one of the most accomplished Super Sportsman drivers to ever sit in the cockpit. All the boxes have been checked.
There have been championship celebrations, a stack of high-profile wins, and plenty of trips to Victory Lane on a weekly basis. It just hasn't happened in a while ... too long by the Lewisberry, Pa., driver's standards.
That changed on Saturday night at BAPS Motor Speedway. Dellinger returned to the frontstretch for the first time since April of 2021 after an efficient performance in the 20-Lap Meyer's RV Super Sportsman main event on York Revolution and Sipe's Lawncare Night.
"I wasn't sure I remembered how to do it," Dellinger's said. "It helps starting up front, but there were other good guys up front.
"It makes you not want to give up. The track had more moisture in it like in 2018 when I won all those races. We hope to keep that speed for the dry-slick tracks in the Summer."
Dellinger started on the outside pole and beat Gene Eppley through the first two corners to grab the lead. Tyler Wolford charged from fourth to second, with Jay Fannasy settling into the third position.
While Dellinger sped away, an intense battle for position took place for the runner-up position. Fannasy slipped by Wolford on the 11thcircuit, with fifth-starting Tony Jackson blasting into the third position.
Wolford started to labor a bit, as he lost fourth to John Edkin on Lap 12. Four laps later, Wolford rolled to a stop to bring out the only caution of the event. He was credited with a 19th-place finish.
Dellinger took off on the restart and opened up a safe distance over the field. Jackson slipped by Fannasy for second on Lap 18, but he couldn't dent the leader's advantage.
At the stripe, it was Dellinger by 1.301 seconds over Jackson. Fannasy, John Edkin, and eighth-place starter Kenny Edkin completed the top five.
In Creekside Auto Sales Late Model action, Taylor Farlling started on the pole and wired the field in the 20-Lap main event.
Farlling was able to control for much of the event and was able to survive three caution periods to hold on for the win. Shawn Shoemaker was the show in this one, charging from 16th to finish second at the stripe.
Travis Mease advanced from sixth to third, with DJ Mease and Jed Latshaw completing the top five. Matt Adams, Jake Moser, and Farlling were heat winners for the 27-car field.
Evening showers forced track officials to alter their program Heat races for the FXG Sign and Label/Dickey's 602 Crate Sportsman and Gene Latta Ford Central PA Legends presented by Baker Door Company were canceled in favor of a feature's only format.
Adam White chased down Greg Reed on Lap 3 and led the rest of the way to capture the 20-Lap 602 Crate Sportsman main event. Talan Carter, Greg Reed, Ray Woodall, and Michael White completed the top five.
In the Legends feature, second-place starter Tanner Jones outlasted ninth-place starter Chris Transeau by a slight .367 seconds to claim the 20-Lap affair.
Jones beat pole-sitter Shawn Abney to the line to lead the first circuit and never looked back. Transeau took second away from Abney on Lap 16 and gave chase, falling short at the finish to place second.
Abney settled for third, with Bill Diehl, and 12th-place starter Logan Carbaugh completing the top five. There were three cautions in the main event, which featured 33 cars.
Meyer's RV Superstores Harrisburg Super Sportsman Feature (20 Laps): 1. 30-Scott Dellinger[2]; 2. 88-Tony Jackson[5]; 3. 222-Jay Fannasy[6]; 4. 35-John Edkin[3]; 5. 75-Kenny Edkin[8]; 6. 10-Troy Rhome[14]; 7. 3B-Mike Enders[11]; 8. 2M-Matt Ondek[12]; 9. 32-Gene Eppley[1]; 10. 99G-Scott Grace[15]; 11. 16-Ryan Rutz[19]; 12. 38H-Allan Hallman[17]; 13. 9B-Blake Brooks[10]; 14. 24-Jack Liddick[13]; 15. 21R-Jamie Rickert[16]; 16. 6S-Shane McConnell[18]; 17. (DNF) 22-Daniel John[9]; 18. (DNF) 19R-Eric Rutz[7]; 19. (DNF) 25-Tyler Wolford[4]; 20. (DNF) 91-Lanny Hake[22]; 21. (DNS) 29-Vaughn Williams; 22. (DNS) F14-Jason Fraker.
Lap Leaders: Scott Dellinger (1-20)
Creekside Auto Sales Limited Late Models (20 Laps): 1. 8-Taylor Farlling[1]; 2. 44-Shawn Shoemaker[16]; 3. 116-Travis Mease[6]; 4. 18-Derrick Mease[2]; 5. 25-Jedadiah Latshaw[9]; 6. 99-Chad Smith[10]; 7. NINE-Ross Leinbach[3]; 8. N20-Joe Lusk[8]; 9. ONE-Chuck Schutz[17]; 10. 5W-Travis Horan[12]; 11. 15-Jared Miller[23]; 12. 08-Zach Kauffman[15]; 13. 4M-Kyle Moser[21]; 14. 37B-Brandon Eveler[19]; 15. 14A-Lucas Adams[20]; 16. 21M-Matt Murphy[22]; 17. 24-Justin Williams[25]; 18. 3B-Coleby Frye[11]; 19. 1T-Tim Murphy[24]; 20. 711-Jennifer Lesher[13]; 21. (DNF) 41-Jake Moser[5]; 22. (DNF) 4-John Moser Jr[18]; 23. (DNF) 77-Matt Adams[4]; 24. (DNF) F1-DJ Myers[7]; 25. (DNF) 12-Bobby Beard[14]; 26. (DNS) 72-Wayne Pfeil; 27. (DNS) 5-Tony Hippensteel.
Lap Leaders: Taylor Farlling (1-20)
Gene Latta Ford Central PA Legends presented by Baker Door Company (20 Laps): 1. 77J-Tanner Jones[2]; 2. 18-Chris Transeau[9]; 3. 26-Shaun Abney[1]; 4. 53-Bill Diehl[6]; 5. 27-Logan Carbaugh[12]; 6. 12-Devin Friese[14]; 7. 9-Rick Hartwig[4]; 8. 70-Mike Racine[16]; 9. 7F-Colton Friese[5]; 10. 55X-Richie Dobson Jr[3]; 11. 3-Scott Montgomery[7]; 12. 19-Travis Perry[15]; 13. 11R-Scott Musselman[18]; 14. 119-Brady Arndt[17]; 15. 0-Cody Altland[8]; 16. 24R-Brian Rampmeyer[20]; 17. 17-Cory Phillips[21]; 18. 90-Scott Spidle[25]; 19. 53D-Bob Stough[22]; 20. 7-Preston Alleman[13]; 21. 79S-Michael Stoppard[10]; 22. 1G-Mike Perkins[30]; 23. 9G-Grady McGrew[23]; 24. 49-Ron Dick Jr[29]; 25. 54G-Moses Goetz[31]; 26. 72-Matt Grebe[32]; 27. (DNF) 25N-Chris Nicoll[11]; 28. (DNF) 6-Steve Seibert Jr[24]; 29. (DNF) 54-Roy Warehime Jr[28]; 30. (DNF) 7H-Hunter McElroy[33]; 31. (DNF) 58-Kevin Boylan[27]; 32. (DNF) 00-Eric McClane[19]; 33. (DNF) 4-Eli Dodge[26].
Lap Leaders: Tanner Jones (1-20)
FXG Sign & Label/Dickey's Barbecue 602 Crate Sportsman (20 Laps): 1. 15-Adam White[4]; 2. 1JR-Talan Carter[5]; 3. 21-Greg Reed[1]; 4. 72-Ray Woodall[7]; 5. 43-Michael White[12]; 6. 44-Bob Stough[8]; 7. 78-Troy Conrad[9]; 8. 32-Tom Princiotta[13]; 9. 17-Bobby Kupp[11]; 10. 97-Niklas Stoudt[3]; 11. B4-Tim Borror[10]; 12. 53-Joey Vaccaro[2]; 13. (DNS) 57-Mia Guy.
Lap Leaders: Greg Reed (1-2), Adam White (3-20)
---
Article Credit: BAPS Motor Speedway
Back to News