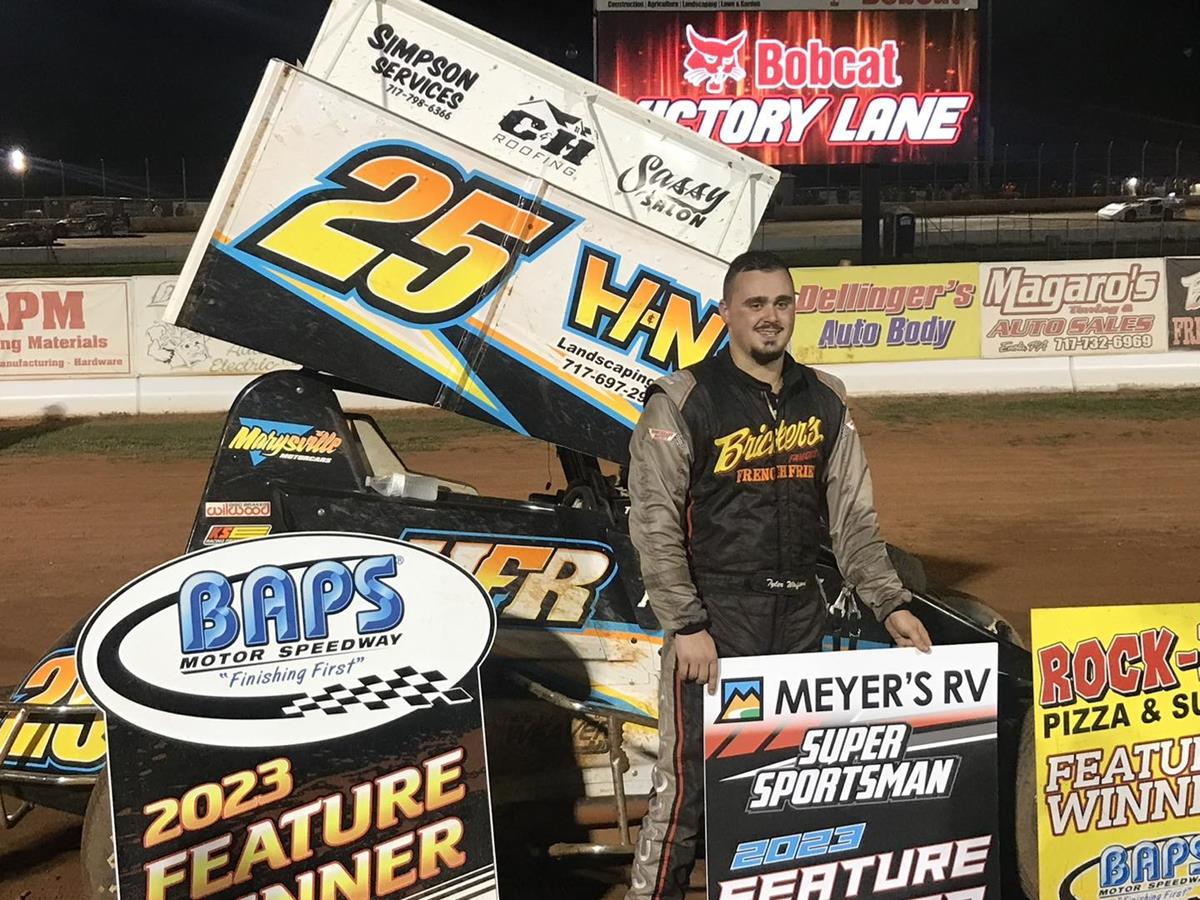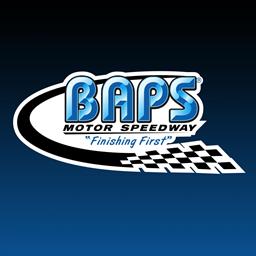 8/5/2023
BAPS Motor Speedway
---
Tyler Wolford Storms to First Career Super Sportsman Win at BAPS
YORK HAVEN, Pa.: It was quite the celebration in Victory Lane Saturday night. There were raucous cheers, pats on the back, and hugs.
Tyler Wolford had dealt with a lot of bad luck over the last couple of seasons. There were electrical issues, overheating problems, and motor hiccups that kept the young driver out of the winner's circle.
Finally, everything went Wolford's way Saturday night. He won a spirited battle with Mike Enders to capture the 25-Lap Meyer's RV Super Sportsman main event on CH Recovery Features Only Kids Night at the speedway.
"Man, I thought I was never going to get here," Wolford said. "I can remember coming here and thinking maybe someday I will get into this. I can't thank the Hockenberry family enough. We were good when we started and have been chasing bad luck. I can't thank these guys enough for letting me run this thing."
The features-only program put Wolford in the fifth starting position at the start of the main event. He dropped back to sixth on the initial start but slowly moved forward, taking the third position on Lap 9.
Meanwhile, Mike Enders, who started third, was out front from the start. He had his lead wiped out on Lap 16, which gave the rest of the field a shot.
Wolford took advantage and slipped past Jay Fannasy for second. Five laps later, he was all over Enders and was able to slip by to lead the 23rd circuit.
"I don't want to sound cocky, but I thought I was pretty good from the start," Wolford said. "Once [Tony] Jackson pulled in, I thought, 'Man, he's tough, and he's out of the way.' I hope he didn't hurt a motor or anything, but I thought, 'This is mine. It's got to be.'
"I hope I didn't race [Mike] dirty. He's one of the cleanest guys here to race, and we've been racing each other for a couple of years. I hope I didn't get into him. I tried my best not to, but I think he would've done the same thing."
Once Wolford got out front, he was able to distance himself from his fellow competitors. He took the checker by 1.208 seconds at the stripe over Enders, Fannasy, Troy Rhome, and Kenny Edkin.
"I saw the white and thought, 'Is this the checker,'" said Wolford after his first career victory. "I was like, 'Nah, it can't be. I saw that checker and was like, 'Finally.' I waited too long for this. We should've won a bunch of times, but here we are."
Jed Latshaw won an entertaining 20-Lap Creekside Auto Sales 358 Late Model main event that featured three different leaders over the race distance.
Jared Miller started fourth and led the first 12 laps before falling off the pace. Matt Adams, who started 10th, carved his way to the front and was on top for two laps before Latshaw completed his charge from sixth to the lead on Lap 15.
Latshaw left little doubt over the last six laps and pulled away to a 1.340-second win. Adams, Devin Frey, Travis Mease, and D.J. Mease completed the top five.
The Gene Latta Ford Legends were also on the card, with Tanner Jones charging from 10th to the win in the 15-Lap event.
Scott Montgomery started on the outside pole and led the first three laps. Jones was a missile early, taking the lead on Lap 4 only to give it up to Devin Friese one lap later.
Friese's advantage was short-lived. Jones retook the lead on Lap 7 and drove away over the final nine laps to claim the victory by 2.819 seconds at the finish.
Colton Friese came up to second after starting eighth. Devin Friese, Chase Singletary, and Rick Hartwig completed the top five.
In the Superior Homes Extreme Stock main event, Sam Rial dominated the 20-Lap main event. He started 10th, took the lead on Lap 8, and sped away to a 4.095-second victory. Jasen Townsend, Will Long, Tyler Knaub, and Hunter Fulton followed Rial to the finish.
Central Pa Legends - Presented By Baker Door Co. ( 26 Cars ):
77J Tanner Jones 2) 7F Colton Friese 3) 21 Devin Friese 4) 75 Chase Singletary 5) 9 Rick Hartwig 6) 3 Scott Montgomery 7) 26 Shaun Abney 8) 70 Mike Racine 9) 39 Wayne Dutterer Jr. 10 ) 11R Scott Mussleman
90 Scott Spidle 12) 17 Cory Phillips 13) 13w Vincent Wenrich 14) 91 Michael Goldsmith 15) 79s Michael Stoppard Jr. 16) 32 Eric Hurst 17) 25N Chris Nicoll 18) 0 Cody Altland 19) 1G Mike Perkins 20) 66 Donald Stoudt
12 Kelby Friese 22) 7H Hunter McElroy 23) 4c Jim Clark 24) 24R Brian Rampmeyer 25) 5 Tyler Rampmeyer 26) 00 Michael McClane
Lap Leaders: 3 Montgomery ( 1 - 3 ), 77J Jones ( 4 ), 21 Friese ( 5 - 6 ), 77J Jones ( 7 - 15 )
Superior Homes Extreme Stocks ( 18 Cars ):
11 Sam Rial 2) 41 Jason Townsend 3) 91 Will Long 4) 5 Tyler Knaub 5) 7F Hunter Fulton 6) 47 Bob Scott Jr. 7) 4 Les Scrivens 8) 33 Michael Goodwin 9) 6G Gordie Marshall 10) 97 Donnie Broderick 11) 27 Doug Hoffman
LAZY 8 John Wright 13) 92 Blake Decker 14) 79 Patric McClane 15) 45 Ernie Posey 16) 7JR Johnny Palm 17) 99 Jake Moser 18) 54 Roy Warehime Jr.
Lap Leaders: 91 Long ( 1 - 7 ), 11 Rial ( 8 - 20 )
Meyer's RV Super Sportsman ( 18 Cars ):
25 Tyler Wolford 2) 3B Mike Enders 3) 222 Jay Fannasy 4) 10 Troy Rhome 5) 75 Kenny Edkin 6) 2m Matt Ondek 7) 35 John Edkin 8) 22 Daniel John 9) 77w Tom Wyckoff 10) 14 Rohan Beasley 11) 9B Blake Brooks
21R Jamie Rickert 13) 318 George Riden 14) F14 Jason Fraker 15) 30 Scott Dellinger 16) 29 Vaughn Williams 17) 88 Tony Jackson 18) 38H Allan Hallman
Lap Leaders: 3B Enders ( 1 -22 ), 25 Wolford ( 23 - 25 )
Creekside Auto Sales 358 Late Models ( 26 Cars ):
25 Jed Latshaw 2) 77 Matt Adams 3) 62 Devin Frey 4) 116 Travis Mease 5) 18 DJ Mease 6) 72 Wayne Pfeil 7) 4m Kyle Moser 8) 5 Charles Potts 9) 41 Jake Moser 10) 14 Lucas Adams 11) 5w Travis Horan
12 Bobby Beard 13) NINE Ross Leinbach 14) 48 Kyle Nicholas 15) 08 Zach Kauffman 16) 543 Eric Tripp 17) 21m Matt Murphy 18) 711 Jennifer Lesher 19) 4 John Moser 20) 54 Cole Slanker 21) 26 Shawn Liddick
15 Jared Miller 23) 79 Tyler Bowman 24) ONE Chuck Schutz 25) 1T Tim Murphy
DNS: 24 Justin Williams
Lap Leaders: 15 Miller ( 1 - 12 ), 77 Adams ( 13 - 14 ), 25 Latshaw ( 15 - 20 )
---
Article Credit: BAPS Motor Speedway
Back to News