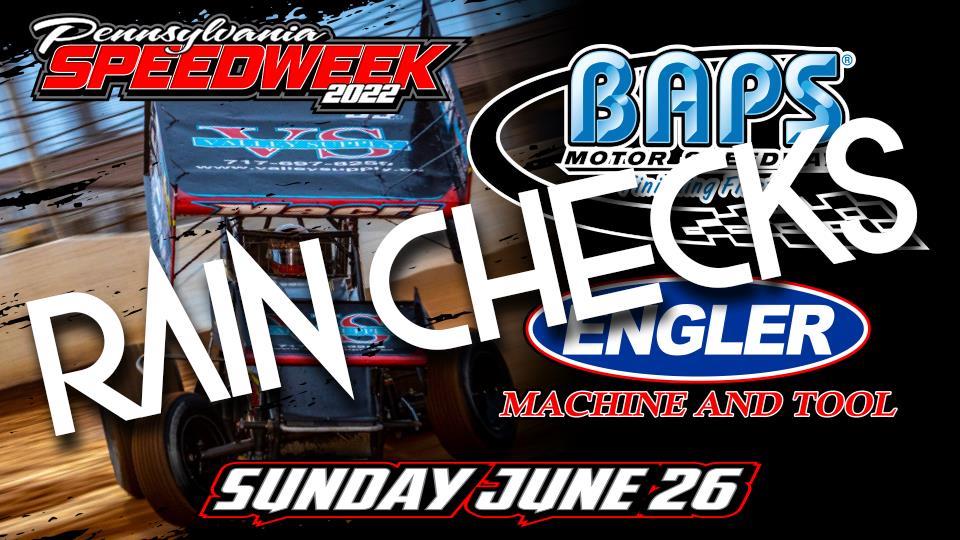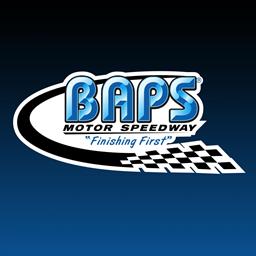 6/27/2022
BAPS Motor Speedway
---
Options for BAPS PA Speedweek Rain Check/Pit Pass Returns
BAPS Motor Speedway received your calls and emails, so we'd like to offer a few options regarding rain checks and pit passes from the rained out PA Speedweek event. These options are only good for PA Speedweek rain checks and pit passes!
Use your rain check or pit pass at any event in the next 30 days. Use it at the Sunday, July 24, Kevin Gobrecht Classic, and SAVE $3 on admission, as admission will be $30 for that event.

Bring your rain check to next week's Dellinger's Auto Body Firecracker 40, and receive a $10 BAPS gift card for an adult rain check or a $5 BAPS gift card for a senior or student rain check. (Adult admission for July 2 will be $17, Senior admission will be $15, Student admission will be $10.)

BAPS Motor Speedway will accept rain checks and pit bands for 30 days from the date of the PA Speedweek event. Send a self addressed, stamped envelope along with your rain checks or pit passes you wish to return, for a full refund. If you do not include a self addressed and stamped envelope, you will forfeit your refund. Your refund request must be postmarked BEFORE the 30 day deadline, which is July 26, 2022. Photo copies of the tickets are not acceptable. You must send the actual rain checks and pit passes. Refunds are only good by mail, no exceptions. Send refund requests to: BAPS Motor Speedway, 690 York Rd. York Haven, PA 17370.
Note: All online pre-sales have been refunded. You will not be able to use those arm bands as a rain check.
---
Article Credit: BAPS Motor Speedway
Back to News