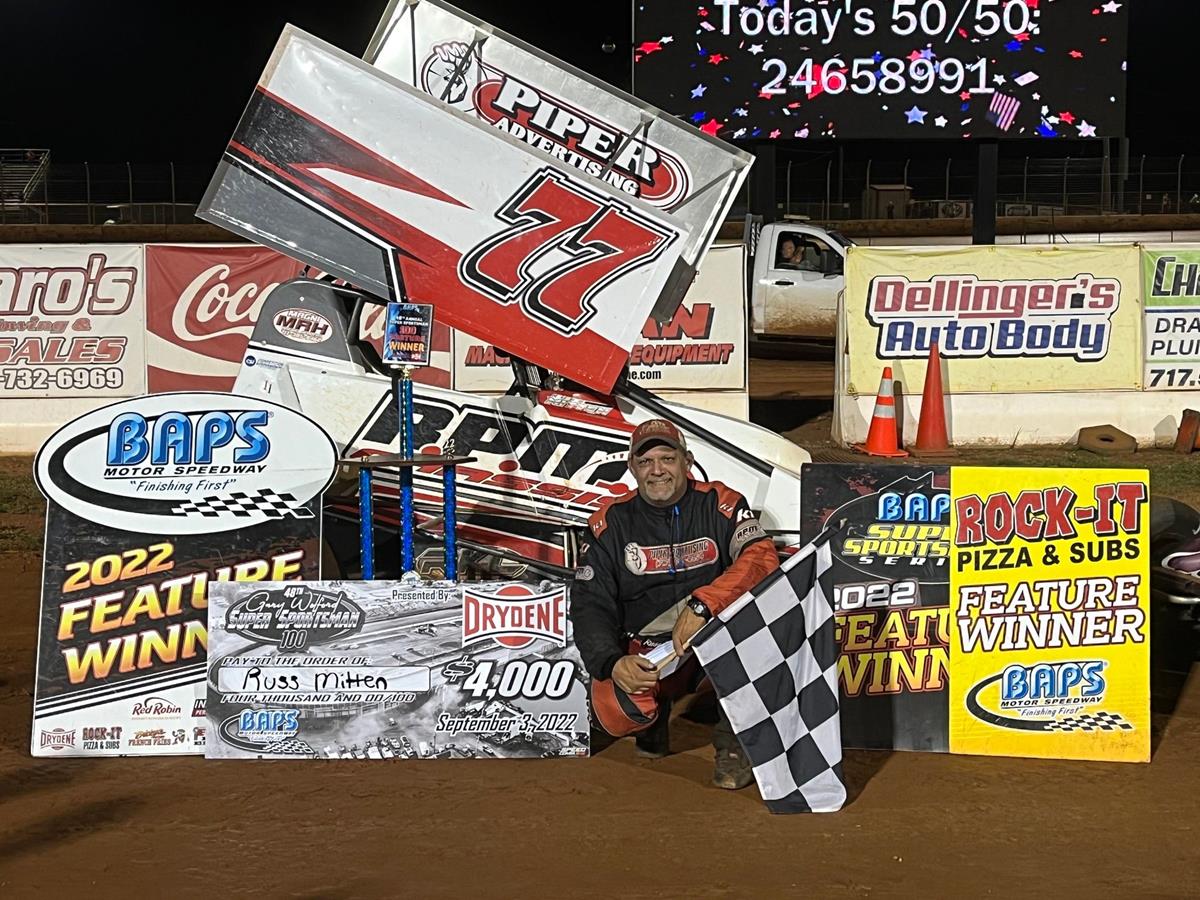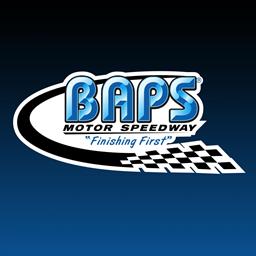 9/3/2022
BAPS Motor Speedway
---
Russ Mitten Claims Sportsman 100 Victory at BAPS
YORK HAVEN, Pa.: Russ Mitten has dedicated a big chunk of his life to dirt-track racing, and specifically, the Super Sportsman division.
It's served him well. Mitten has racked up plenty of wins and has become a legend behind the wheel of a Sportsman. One of the biggest accomplishments came a year ago when he captured the prestigious Gary Wolford Sportsman 100.
The resumé got a little bigger Saturday night. On what was an emotional night for the Newville, Pa., driver backed up last year's epic triumph by going back-to-back in the 100-lap affair and earned a well-deserved $4,000 plus over $1,500 in lap money.
Mitten couldn't hold back the tears in Victory Lane. It wasn't just the throwback scheme his family unveiled before the night began ... there is a chance this was Mitten's last ride in this historic event.
"I'm speechless on it," Mitten said. "When we were standing out here waiting for driver introductions, I was talking to Scott Dellinger, and he looked at me and said, 'You know, you and I are the only ones in the field who have won this before.' I didn't really think about it, and I just looked over and said, 'Let's try and keep it that way.'
"I'm happy and kind of sad, because this could be my last time out here for the 100. Thirty-three years is a long time. Racing gives you a lot, and it's given me a lot. It's provided my family a lot, but it also takes a lot away from you.
"It can take your friends, and it can take away your family. You can get that stuff back and make amends, but the biggest thing it takes away, other than money, is time. It's time you don't get back. I just don't know what I'm going to do."
The 48th annual edition of this race, which was presented by Drydene Oil, started with Mitten surging from third to first on the opening circuit. He disposed of front-row starters Chris Meleason and Luke Deatrick to take over the top spot.
But Mitten, who had his throttle pedal break early on, knew he wasn't going to lead the entire race distance. He set up for the end and figured somebody would go flying by through the middle stages of the race.
Paul Miller started fifth on the grid and wrestled the lead away on Lap 32. Mitten took it back four laps later and was still setting the pace when the yellow was thrown for a fuel stop on the 56th circuit.
After the stoppage, Kenny Edkin was on the move. He shot past Mitten on Lap 61 and led Tony Jackson to the front. Jackson chased down Edkin and disposed of him for the top spot on the 72nd circuit.
"I told my guys we are going to be OK the first part of the race," Mitten said. "I wasn't sure about the second half. We were on new tires, but you get what you get with sizes. I said, 'I will deal with it. Tony and Kenny, those guys are going to probably drive by me at the beginning. Don't worry about it ... we will be fine.'
"I had a game plan, and I was going to stick to it until the end of the race. I knew they would be faster than me with the way the car was and where I could get it to, but I knew we were going to be OK the last 10 laps."
Mitten prefers a slick, technical track. He's not the type of driver who wants to blast around the curb to carve his way to the front. So, when his car gets to the point where he can run the middle and bottom, look out.
That's what happened in the late stages of the race. Mitten tracked down Edkin for second and disposed of Jackson on Lap 93 after a red flag occurred for Troy Rhome one lap earlier.
"I felt like my car was starting to come to me, and I moved down off the top and started to click off the cars that passed me," Mitten said. "I knew Tony wasn't going to move off of the top. That's his deal, he loves that deal, and he is one of the best guys around here running around the top. So, I figured if he stayed up there, we were going to be fine."
Once Mitten got the lead, he distanced himself from the field. This was his race, and he wasn't about to give it away on this night.
Mitten added another big score to his list of accomplishments. Meanwhile, Tony Jackson settled for a runner-up finish and was followed to the line by Kenny Edkin, Jay Fannasy, and John Edkin.
"I'm kind of dumbfounded, right now," Mitten said. "We've had stellar motors all year, great motors. Danny from DMY builds a hell of a motor, and he's got us to this point. This is a fresh motor I had that my Dad owns. It's a Gary Hammaker motor. It was fresh, so we put it in, and it worked really good.
"Between DMY and Gary Hammaker, our motors are bad ass. I can't say enough about those two, and I'm glad I have one of each. The Rhomes, I wouldn't be where I'm at if not for Big Dan, Troy, and Tracy, all of them. I know I'm forgetting somebody, but I'm rambling. It's an emotional night."
In 602 Modifield action, Skylar Sheriff started fifth on the grid and charged to the front to score the win in the 25-Lap main event.
Steve Lyle led the first eight laps before Kevin Olenick took over. Sheriff won a three-car battle one lap later and sped away to victory. Steve Davis, Olenick, Brad Brightbill, and Rick Wegner Jr. completed the top five.
Tim O'Sheehan grabbed the top spot on Lap 2 and owned the 15-Lap Limited Stock feature. He started fourth on the grid and passed Justin Oberlin for the win. Matt Worley and Ricky Weaver completed the top three.
BAPS Super Sportsman - 48th Annual Gary Wolford Super Sportsman 100 presented by Drydene
Feature (100 Laps): 1. 77-Russ Mitten[3]; 2. 88-Tony Jackson[8]; 3. 75-Kenny Edkin[10]; 4. 222-Jay Fannasy[7]; 5. 35-John Edkin[13]; 6. 3B-Mike Enders[14]; 7. 30-Scott Dellinger[6]; 8. 8M-Chris Meleason[1]; 9. 25-Tyler Wolford[12]; 10. 383-Steve Fannasy[9]; 11. 32-Gene Eppley[22]; 12. 88W-Eric Walker[16]; 13. 7L-Sam Leonard Jr[17]; 14. 58-Paul Miller[5]; 15. 14-Nate Young[20]; 16. 5D-Luke Deatrick[2]; 17. 77W-Tom Wyckoff[18]; 18. 38H-Allan Hallman[19]; 19. (DNF) 00-Troy Rhome[11]; 20. (DNF) 22-Daniel John[15]; 21. (DNF) 360-George Riden III[24]; 22. (DNF) 00L-Luke Lenker[23]; 23. (DNF) 2M-Matt Ondek[4]; 24. (DNF) 91-Lanny Hake[21].
Lap Leaders: Russ Mitten (1-31), Paul Miller (32-35), Russ Mitten (36-60), Kenny Edkin (61-72), Tony Jackson (73-92), Russ Mitten (93-100).
602 Crate Sportsman
Feature (25 Laps): 1. 33S-Skylar Sheriff[5]; 2. 13-Steve Davis[11]; 3. 450-Kevin Olenick[1]; 4. 19-Brad Brightbill[3]; 5. 22-Rick Wegner Jr[6]; 6. 12T-Tyler Peet[19]; 7. 1JR-Talan Carter[16]; 8. 5J-Joseph Brown[7]; 9. 72-Ray Woodall[9]; 10. 12-Eric Kocher[8]; 11. 0INK-Kevin Brady[14]; 12. 333-John McGeoy[17]; 13. 02-Jeremy Beichner[22]; 14. 45-Justin Lilick[12]; 15. (DNF) 17-Bobby Kupp[15]; 16. (DNF) 55-Brian Rehbein[4]; 17. (DNF) 09-Steve Lyle[2]; 18. (DNF) 53-Roger Gaskill[20]; 19. (DNF) 25M-Marc Berzowski[23]; 20. (DNF) 28X-Zachery Cook[24]; 21. (DNF) 14N-Justin Newhard[10]; 22. (DNF) 57-Mia Guy[18]; 23. (DNF) 76-Jimmy Avery[13]; 24. (DNF) 78-Troy Conrad[21].
Lap Leaders: Steve Lyle (1-8), Kevin Olenick (9), Skylar Sheriff (10-25).
Limited Stocks
Feature (15 Laps): 1. 519-Tim O'Sheehan[4]; 2. 6W-Matt Worley[2]; 3. 21-Ricky Weaver Jr[3]; 4. 47-Travis Brown[8]; 5. 40-Noah Swank[5]; 6. 88-Justin Oberlin[1]; 7. 92-Terry Hartlaub[14]; 8. 17-Carl Cassell[6]; 9. 5S-Marlyn Runk[10]; 10. 9-Robert Chittum[11]; 11. 21J-Lem Crawford[12]; 12. (DNF) 7R-Rob Rudisill Jr[7]; 13. (DNF) 3R-Colton Rudisill[9]; 14. (DNF) 22-Chad Martin[15]; 15. (DNF) 51-Andrew Keefer[13]; 16. (DNS) 77-Justin Mong.
Lap Leaders: Justin Oberlin (1), Tim O'Sheehan (2-15).
---
Article Credit: BAPS Motor Speedway
Back to News