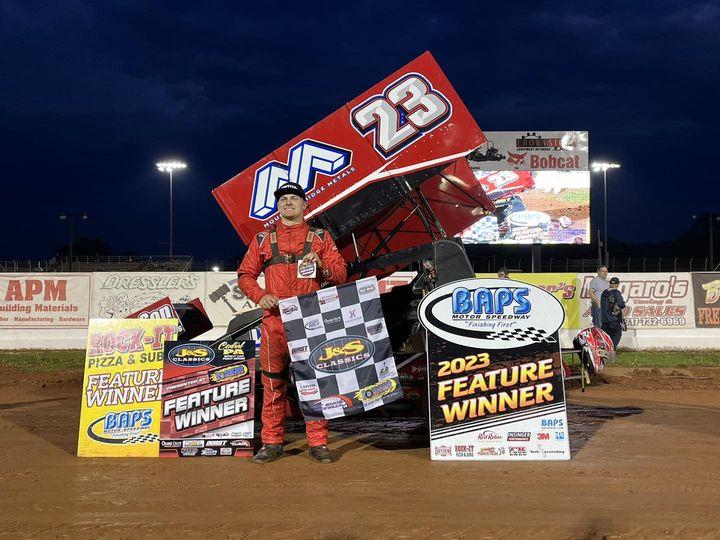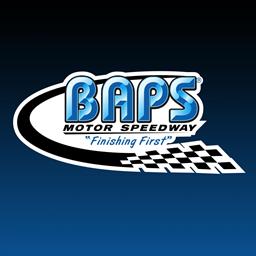 4/16/2023
BAPS Motor Speedway
---
Devon Borden Claims Thriller at BAPS
YORK HAVEN, Pa.: Devon Borden turned heads in central Pennsylvania during a 410 Sprint Car race at BAPS Motor Speedway a couple of years ago.
The end result wasn't what he was hoping for during the May event in 2021. Borden was running in the top five when a fuel pump issue dropped him in the final rundown.
Still, an impression was made. Since then, Borden has been trying to gain a foothold and carve out a 410 Sprint Car career against some of the top weekly competition in the country.
Borden took a step in the right direction Sunday during Brooks Graphix Night at BAPS Motor Speedway. The Washington native won a fierce battle with Chase Dietz before speeding away to his first-career win at the speedway and second overall in 2023.
"It just gives me the chills, man," Borden said. "I never thought I would be here this soon. I just have to thank this whole Shuttlesworth-Stehman Racing Team.
"John and Kelly Stehman, Jim and Chris Shuttlesworth, Mike Danner, Jeff Weaver, man, these guys bust their butts night in and night out. Without them, I couldn't be here. I'm just feeling super-good, right now."
Borden should. Especially after watching Dietz, who started fifth on the grid, grab the lead after a couple of cautions delayed the start of the 30-Lap event.
The first incident occurred heading into Turn 1, when second-place starter Bradley Howard skidded across the track and collected Danny Dietrich, who started third. The second start was equally dicey due to a three-car crash involving Chad Trout, Jeff Halligan, and Dietrich, who tipped over in Turn 2.
Dietz took advantage and got by Borden at the start and led an entertaining 15 circuits that saw both drivers slide one another and jockey for position. Meanwhile, Dietrich, who tagged the rear, was blasting his way through the field.
"That was a hell of a race between me and Chase," Borden said. "Hat's off to him. We raced each other clean, and it was just a really fun race. I had to keep the elbows up the whole time, and luckily, it worked out for us."
Borden slid Dietz on Lap 16 and held the top spot for the next four laps. On the 22nd circuit, Dietz surprised the leader by uncorking a slider through the third and fourth corner to wrestle the top spot away.
Dietz led the next lap before having his pace slowed on Lap 25 when Jim Siegel had a fire under his car. The red flag was thrown, setting up a much-anticipated charge into the first corner on the restart.
Borden pulled the slide job through Turns 1 and 2, making it stick on the cushion. There was no contact, but Dietz did get sideways and spun in the second corner, ending any chance he had at earning his second win of the season. He tagged the rear and came back to eighth.
"Really, I just knew I had to stay calm and stay right there," Borden said. "We were, obviously, within striking distance, and I was just waiting for the right time. We got around him the first time, and I thought I was sitting pretty good. Next thing I know, he flies me there. I knew I had to get up on the wheel at that point.
"It was, definitely, very close, tight racing. It's cool and puts a good race on for the fans. I have to thank the fans for coming out to support me and Sprint Car racing. Without you, this wouldn't be possible, and it means a lot."
When the race went back to green, Borden took off and left the field sit. Meanwhile, Kyle Moody and Freddie Rahmer traded the second spot, while Dietrich took over the fourth position on Lap 26.
But catching Borden wasn't going to happen. He drove away to the win over Moody, Rahmer, Dietrich, and Tyler Ross, who came from ninth to complete the top five in the RV 4-Wheel Drive and Performance Automotive Sprint Car Series event.
In the FXG Sign and Label/Dickey's Barbecue 602 Crate Sportsman main, Joe Toth rode the high line to the checker to capture the 20-Lap victory.
The opening lap was marred by a 12-car pileup on the fronstretch. When the race went back to green, it went non-stop with Toth taking the lead from pole-sitter Brandon Watkins on Lap 9 and speeding away to the win.
Watkins settled for second, with Ryan Simmons, Adam White, and Kevin Olenick completing the top five in the main event.
Carlisle's Tony Jackson capped the three-division program with an impressive win in the 20-Lap Wingless Super Sportsman feature. Jackson competes at the speedway in the winged Super Sportsman division on a weekly basis.
Cliff Brian Jr. started on the pole and led the first three circuits. Jackson went to the cushion and disposed of the leader on Lap 4 and was able to maintain that lead until the checkered flag flew.
Brian finished second, followed by Billy Brian Jr. Eighth-place starter Trent Yoder and Bob Gutshall completed the top five.
410 Sprint Car Feature Finish, 30 Laps: 1. Devon Borden; 2. Kyle Moody; 3. Freddie Rahmer; 4. Danny Dietrich; 5. Tyler Ross; 6. Kyle Reinhardt; 7. Troy Wagaman Jr.; 8. Chase Dietz; 9. Gerard McIntyre; 10. Billy Dietrich; 11. Ryan Smith; 12. Mark Smith; 13. Ricky DiEva; 14. Logan Rumsey; 15. Cody Fletcher; 16. TJ Greve; 17. Cameron Smith; 18. Dylan Norris; 19. Lucas Wolfe; 20. Jim Siegel; 21. Domenic Melair; 22. Chad Trout; 23. Jeff Halligan; 24. Bradley Howard.
602 Crate Modified Feature Finish, 20 Laps: 1. Joe Toth; 2. Brandon Watkins; 3. Ryan Simmons; 4. Adam White; 5. Kevin Olenick; 6. Michael White; 7. Tom Princiotta; 8. Cody Manmiller; 9. Craig Whitmoyer; 10. David Burns; 11. Kyle Smith; 12. Randy Stoudt; 13. Bob Stough; 14. Troy Conrad; 15. Talan Carter; 16. Mia Guy; 17. Joey Vaccaro; 18. Scott Albert; 19. Joseph Brown; 20. Ray Woodall; 21. Tim Borror; 22. Chase Rehbein; 23. Trey Hicks; 24. Bobby Kupp.
Wingless Super Sportsman Feature Finish, 20 Laps: 1. Tony Jackson; 2. Cliff Brian Jr.; 3. Billy Brian Jr.; 4. Trent Yoder; 5. Bob Gutshall; 6. Steve Wilbur; 7. Jason Failor; 8. Dexter Ehrenzeller; 9. Matt Cisney; 10. Brian Nace; 11. Chad Thomas; 12. Vaughn Williams; 13. Gene Eppley; 14. Sam Leonard Jr.; 15. Jason Moore; 16. Blake Brooks; 17. Andy Burkhart; 18. Joe Gabner; 19. Jacob Galloway; 20. Adam Meier; 21. Kevin Gutshall.
---
Article Credit: BAPS Motor Speedway
Back to News