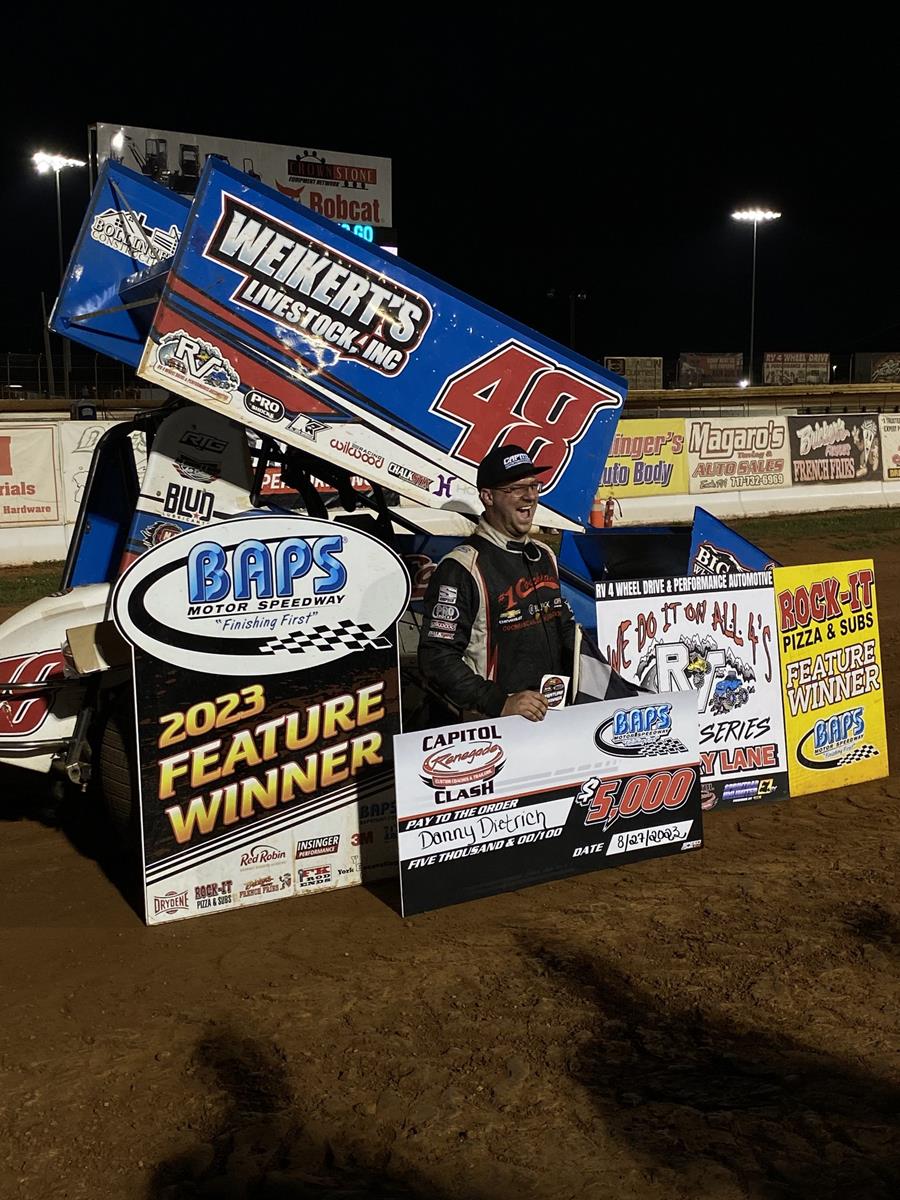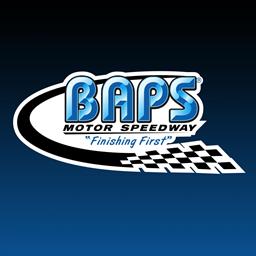 8/27/2023
BAPS Motor Speedway
---
Danny Dietrich Collects Capitol Renegade Clash Victory at BAPS
YORK HAVEN, Pa.: Danny Dietrich isn't exactly pleased with his season. There has been plenty of disappointment and near misses.
The good news is that it isn't because the team lacks speed ... at least during racing conditions. Dietrich's had a slew of runner-up finishes and plenty of top-five runs that show he is at least in the hunt for wins.
They haven't come, but Dietrich hasn't stopped plugging away. That paid dividends Sunday night, when the Gettysburg, Pa., driver won a hard-fought battle with Tim Buckwalter and captured the Capitol Renegade Clash at BAPS Motor Speedway.
"My guys have worked their butts off," Dietrich said after his sixth win of 2023. "We've had a fast car all year. We have one month of hiccups, but I can't thank people enough. My sponsors, Gary Kauffman, so many people who put work and money into this team to keep it going.
"It's been a trying season ... not just here, but everywhere. We are rolling pretty good, right now, and it feels really good."
Dietrich lined up on the pole but staying there and punching his ticket to Victory Lane was no easy task. After a caution on the opening lap, Kyle Reinhardt was over the leader and looking for a way to get by over the first three circuits.
Reinhardt's race took an abrupt turn on Lap 4, when he looped the car between Turns 3 and 4. He tried to keep the car going and collected point leader Freddie Rahmer, who also stopped with major front-end damage.
When the race went back to green, Buckwalter got past Devon Borden for second. One lap later, he nailed the bottom through the third and fourth corner and slipped past Dietrich by the completing of Lap 5.
Dietrich didn't go away. He remained within half a second of the top spot when the frontrunners hit lapped traffic on Lap 11. He continued to pound the top in Turns 1 and 2 and followed Buckwalter at the other end of the speedway to remain within .282 seconds at the completion of Lap 14.
The winning move came at the halfway point of the 30-Lap affair. Buckwalter missed the bottom in Turn 3, which allowed Dietrich to hug the bottom and lead by a narrow margin at the flagstand.
"Tonight was fun," Dietrich said. "I let Tim get in front of me and had to chase him down. I wasn't sure how hard I needed to run, and he snuck by me. I just kept pounding the top in one and two. It was really dirty, and I felt like I was the only one running there for a while. You just needed to get in and roll it.
"Once I got back to the lead, I had to get to the bottom. We were just good all the way around and didn't have to really push it. Sometimes, I'm just better at chasing someone and knowing where we stand."
Once out front, the race belonged to Dietrich. He knifed through lapped traffic and opened up a 2.8-second lead by the time Lap 20 was scored.
While Dietrich sped away, Borden won a fierce battle with Buckwalter. Catching the leader was a different story, and Dietrich took his 17th win at the speedway by 4.95 seconds. Mark Smith, Buckwalter, and Australian Ryan Newton completed the top five.
"It's hard to believe I have that many wins here," Dietrich said. "It's been a while since I won here, so it feels good to get higher on the list and keep clicking off wins with some big shows left at the end of the year."
In the 358 Modified main event, Rick Laubach took advantage of Matt Stangle's misfortune and captured the 25-Lap main event.
Stangle started on the pole and was in control of the event. His fortunes turned on Lap 20, when he rolled to a stop with motor issues, which put Jordan Watson into the top spot on the restart.
Laubach lined up second and got a huge jump on the leader. He slipped past Watson and led the rest of the way, taking the win by 1.647 seconds at the stripe.
Jeff Strunk also got by on the late restart and finished second. Watson, Louden Reimert, and Jack Butler completed the top five.
RV 4 Wheel Drive & Performance Automotive 410 Sprints ( 23 Cars ):
48 Danny Dietrich 2) 23 Devon Borden 3) 19R Mark Smith 4) 20 Tim Buckwalter 5) 66 Ryan Newton 6) 95 Kody Hartlaub 7) 75 Tyler Ross 8) 44 Dylan Norris 9) 99m Kyle Moody 10) 10x Reese Nowotarski 11) 22E Nash
Ely 12) 67 JJ Loss 13) 41 Logan Rumsey 14) 5w Lucas Wolfe 15) 3 Denny Peebles 16) 55 Domenic Melair 17) 11z Zach Newlin 18) 1x Chad Trout 19) 77K Steven Kisamore 20) 11P Greg Plank 21) 91 Kyle Reinhardt
51 Freddie Rahmer 23) 27 Troy Wagaman Jr.
Lap Leaders: 48 Dietrich ( 1 - 4 ), 20 Buckwalter ( 5 - 14 ), 48 Dietrich ( 15 - 30 )
Heat Winners: 23 Borden, 66 Newton, 91 Reinhardt
Quick Time: 20 Buckwalter ( 15.927 )
Denk Electric Hard Charger: 75 Ross ( + 6 )
358 Modifieds ( 17 Cars ):
20 Rick Laubach 2) 126 Jeff Strunk 3) 51 Jordan Watson 4) 16 Louden Reimert 5) 5 Jack Butler 6) 2A Mike Gular 7) 1 Billy Pauch Jr. 8) 17x Kevin Beach 9) 5J Jared Umbenhauer 10) 157 Dave Dissinger 11) 64 Wayne
Witmer 12) 79 Blaine Braclin 13) 14RR Joe Funk 14) 28 Tom Soderich 15) 54 Chase Rehbein 16) 6 Matt Stangle 17) 13 Steve Davis
Lap Leaders: 5 Stangle ( 1 - 19 ), 20 Laubach ( 20 - 25 )
Heat Winners: 16 Reimert, 6 Stangle
---
Article Credit: BAPS Motor Speedway
Back to News