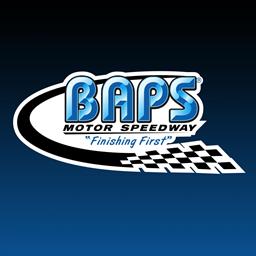 10/18/2023
BAPS Motor Speedway
---
Penn Centre Logistics & Ohio Logistics to Offer Out of Towner Bonus on Nov. 11th
YORK HAVEN, Pa.: This year's season-ending Sprint Showdown has become the biggest in the history of BAPS Motor Speedway. And it's getting bigger.
On top of a winner's share of $25,000 and a huge purse, bonus money continues to roll in for competitors. Thanks to Penn Centre Logistics, a member of Ohio Logistics, a bonus for drivers and teams from different states will be paid out at the November 11th extravaganza, which will honor the late Les Stewart.
The highest finishing 410 Sprint Car driver in this year's York Excavating Les Stewart Sprint Showdown A-Main from Indiana, Illinois, Iowa, Ohio, and New York will each receive a $250 bonus.
"We want to thank Penn Centre Logistics and Ohio Logistics," BAPS Motor Speedway General Manager Kolten Gouse said. "This event continues to grow, and we hope the $250 bonus provides incentive for teams outside the area to support this event.
"There are a lot of good teams, and we wanted to do something for them, as well as our teams in central Pennsylvania. We are looking to put on the best event possible to honor Les Stewart, a renowned car-owner, friend, and supporter of Sprint Car racing."
The 602 Crate Sportsman 50 will also be on the program, as well as a small car and big car Enduro. Pit gates open at noon, with grandstands slated to open at 1 p.m. Racing will begin at 3 p.m.
General admission the day of the race is $35 for adults. Seniors 60-over admission is $30, with Students 13-17 getting in for $25. Kids 12-under are free.
---
Article Credit: BAPS Motor Speedway
Back to News